The Major Autumn Exhibition:


"Alexander and the Hellenism"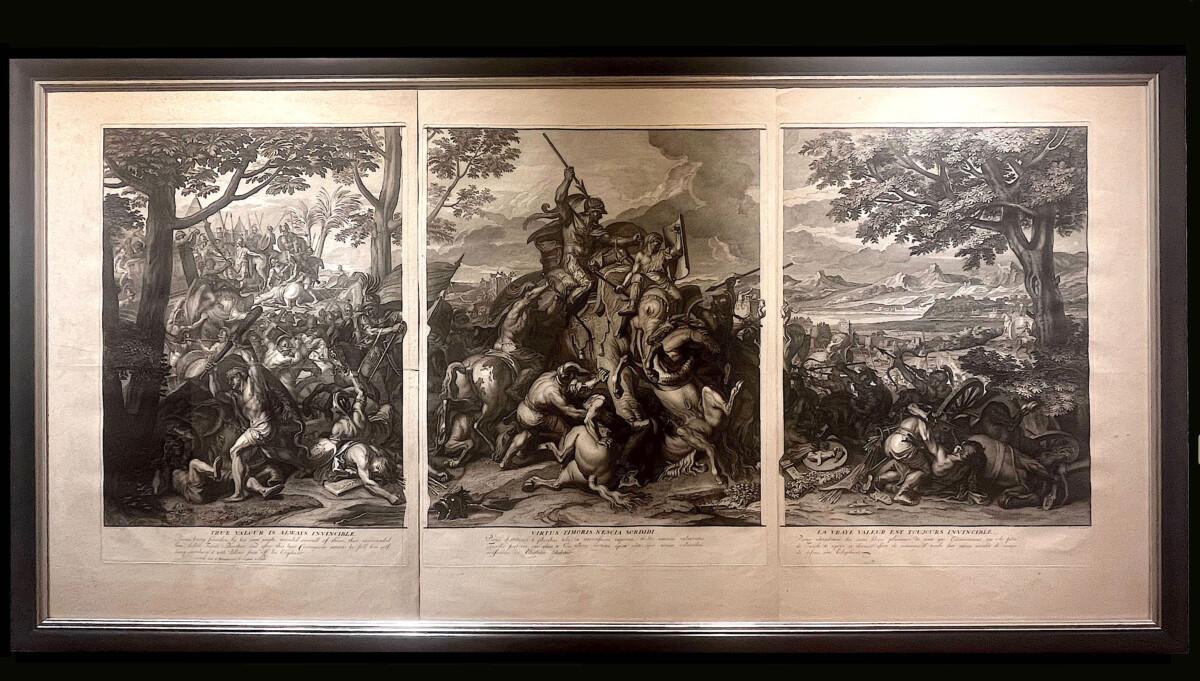 Just a few days left: We are delighted to invite you on 11 October at 6 p.m. to our major autumn exhibition. We present for the first time the complete cycle of seven monumental original copper engravings of the campaign of Alexander the Great, produced for the Royal Louvre in Paris in the late 17th and early 18th century (here the invitation).
Die große Herbst-Ausstellung:


"Alexander und der Hellenismus"



Nur noch wenige Tage: Wir freuen uns, Sie am 11. Oktober um 18.00 Uhr zur Eröffnung unserer großen Herbst-Ausstellung einzuladen. Wir präsentieren erstmals den kompletten Zyklus von sieben monumentalen Original-Kupferstichen des Alexander-Feldzugs, die Ende des 17. und Anfang des 18. Jahrhunderts für den königlichen Louvre in Paris hergestellt wurden (hier die Einladung).



Our Highlight of the Month:
Greece – 1st century B.C.
Spectacular marble fragment of a ram's head. The animal with large, vigilant eyes which look out between heavy lids. The bulges under the eyes are masterfully modeled. Thick fur curls frame the forehead and the cheeks. The massive snout is rounded. Some remains of the horns are still preserved and give a hint of the former splendour of the statue. The head possibly belonged to an important mythological group of statues depicting the escape of Ulysses' men from the cave of the Cyclops Polyphemus. Compare this to the figure of a ram in the Galeria Doria Pamphili in Rome. Possible is also that the head was an architectural part, e.g., a corner piece of a tomb altar, which must have been of significant size. See the altar in the Metropolitan Museum of Art in New York with the Accession Number 25.78.29. For the stylistics also see the famous ram's head from the Norbert Schimmel (1905-1990) collection, auctioned with Christie's London on 3 July 2019, lot 97. From a Greek workshop. Mounted.


Provenance: Swiss private collection, Mendrisio, acquired in the early 1980s.
Dimensions: 34 cm high
Price: 18 000 Euro


Griechenland – 1. Jahrhundert v. Chr.
Spektakuläres Marmorfragment eines Widderkopfes. Das Tier mit großen, wachen Augen, die zwischen dicken Lidern hervorschauen. Die Ausbuchtungen unter den Augen meisterhaft modelliert. Dichte Fellocken schmücken die Stirn und die Backen. Die mächtige Schnauze abgerundet. Die Ansätze der Hörner sind noch erhalten und lassen die einstige Pracht dieser Statue erahnen. Wahrscheinlich gehörte dieser Kopf zu einer bedeutenden mythologischen Statuengruppe, die die Flucht der Männer des Odysseus aus der Höhle des Kyklpos Polyphemos darstellte. Vergleiche dazu die Figur eines Widders in der Galeria Doria Pamphili in Rom. Denkbar ist auch, dass der Kopf ein architektonisches Teil war, etwa als Eckstück eines Grabaltars, der allerdings eine beachtliche Größe gehabt haben müsste. Vergleiche dazu den Altar im Metropolitan Museum of Art in New York mit der Accession Number 25.78.29. Zur Stilistik vergleiche auch den bekannten Widderkopf aus der Sammlung von Norbert Schimmel (1905-1990), versteigert bei Christie's London am 3. Juli 2019, Los 97. Aus einer griechischen Werkstatt. Gesockelt.


Provenienz: Schweizer Privatsammlung, Mendrisio, erworben Anfang der 1980er Jahre.
Höhe: 34 cm
Preis: 18.000 Euro


Selected Artworks of the Month:
Egypt – Late period, 664-332 B.C.
Exceedingly sculptural and very large, wood sarcophagus mask. The face is framed by a blue, tripartite wig. The ears are visible. The eyes with black pupils, black lids and a long black eyeliner. The brows are also black with a fine dotted row below. The collar with red and blue bands where circles, blossoms and triangles are painted. A very large, almost monumental mask. Mounted on a black acryl glass plate for suspension on the wall.


Provenance: Private collection Christine Delangle, Paris. By descent from the parents, who acquired the mask in the 1980s.
Dimensions: 62.8 cm x 49.5 cm
Price: 12 000 Euro


Ägypten – Spätzeit, 664-332 v. Chr.
Überaus plastische und sehr große, hölzerne Sarkophagmaske. Das Gesicht wird von einer blauen, dreiteiligen Perücke gerahmt. Die Ohren sind frei. Die Augen mit schwarzen Pupillen, schwarzen Lidern und einem langen schwarzen Lidstrich. Die Brauen ebenfalls schwarz mit einer feinen Punktreihe darüber. Der Halskragen mit roten und blauen Bändern, in die Kreise, Blüten und Dreiecke gemalt sind. Eine sehr große, geradezu monumentale Maske. Auf einer schwarzen Acrylglasplatte zur Montage an der Wand aufgebracht.


Provenienz: Privatsammlung Christine Delangle, Paris. Übernommen von den Eltern, die die Maske in den 1980er Jahren erwarben.
Dimensionen: 62,8 cm x 49,5 cm
Preis: 12.000 Euro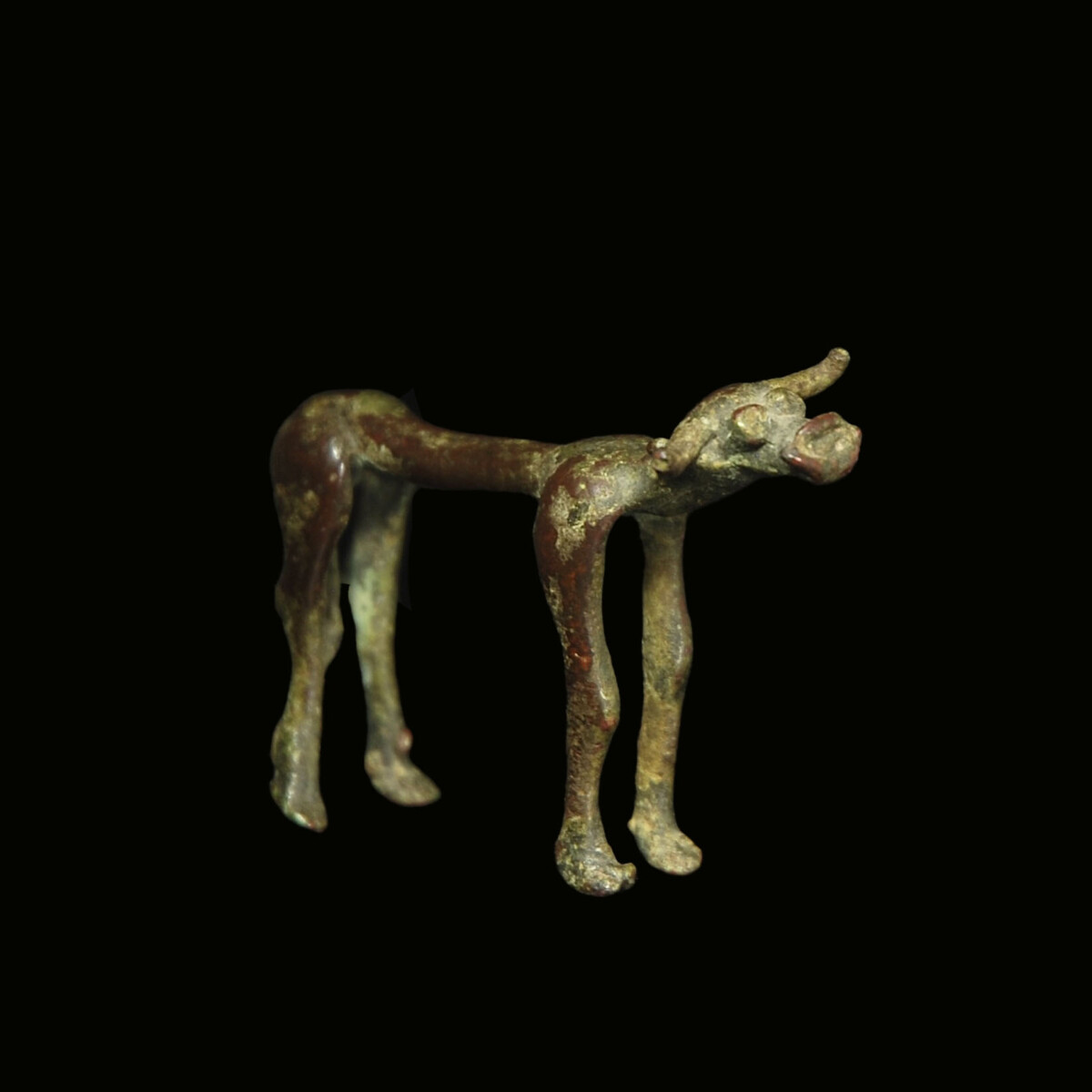 Anatolia – early to mid 2nd millennium B.C.
Charming stylized solid bronze bull from Anatolia worked out in high quality. The animal stands on thin long legs, where the joints are clearly accentuated forward and backward. The hooves are worked out and flat. The buttock is large and round, in the centre the long, slightly twisted tail starts, which is curved to the right and rests on the right hindleg. Below the buttock is the male genital of the bull. The body is strikingly slender and has a round cross-section. The stylized head is raised and sits on a stretched neck with a vertical skin fold. The horns are curved forward, just behind are small ears which lie on the neck. The eyes are large and button-shaped and vigilantly looking straight, the large mouth with broad nostrils is trumpet-shaped. The bull was possibly part of a cart. These small models were found as votive offerings in Bronze Aged tombs in Anatolia. See Christie's London auction on 2 April 2014, lot 30, or "Bronze and Iron Ancient Near Eastern Artefacts in the Metropolitan Museum of Art", New York, 1988, p. 414-415, number 568.


Provenance: From the private collection Franz-Josef Bach, who worked as the German ambassador in Iran. The collection Bach was auction on 12 Dcember 1973 with Drouot Paris, where the bull was described and pictured as lot 151 in the catalogue. There acquired by the collection J. C., Paris.
Dimensions: 4.5 cm x 5.8 cm
Price: 4 000 Euro


Anatolien – Anfang bis Mitte 2. Jahrtausend v. Chr.
Anmutiger und in hoher Qualität gearbeiteter, stilisierter Vollbronze-Stier aus Anatolien. Das Tier steht auf dünnen langen Beinen, bei denen die Gelenke nach vorne und hinten deutlich akzentuiert sind. Die Hufe sind ausgearbeitet und unten flach. Das Gesäß ist groß und rund, in der Mitte setzt der lange, leicht tordierte Schwanz an, der nach rechts ausschwingt und am rechten Hinterbein aufliegt. Unter dem Gesäß das männliche Genital des Stiers. Der Körper ist auffällig schlank und hat einen runden Querschnitt. Der stilisierte Kopf ist angehoben und sitzt auf einem durchgestreckten Hals auf, der unten über die gesamte Länge eine dünne Hautfalte aufweist. Die Hörner sind nach vorne gebogen, dahinter liegen kleine Ohren am Hals an. Die Augen sind groß und knopfförmig und blicken wach geradeaus, das große Maul mit breiten Nüstern ist trompetenförmig. Der Bulle war wohl Teil eines Wagengespanns. Diese kleinen Modelle wurden als Votivgabe in bronzezeitlichen Gräbern Anatoliens gefunden. Vergleiche dazu etwa Christie's London Auktion vom 2. April 2014, Los 30 oder "Bronze and Iron Ancient Near Eastern Artefacts in the Metropolitan Museum of Art", New York, 1988, S. 414-415, Nummer 568.


Provenienz: Aus der Privatsammlung Franz-Josef Bach, der vor 1973 als deutscher Botschafter im Iran tätig war. Die Sammlung Bach wurde am 12. Dezember 1973 bei Drouot in Paris versteigert, der Stier ist als Losnummer 151 im Katalog beschrieben und abgebildet. Dort erworben von der französischen Sammlung J. C., Paris.
Dimensionen: 4,5 cm x 5,8 cm
Preis: 4 000 Euro



Egypt – 30th dynasty, 4th century B.C.
Beautifully preserved faience shabti of light turquoise glazed faience. The figure in mummiform with streaked, tripartite wig and braided chin beard. The figure holds with his crossed hands a hoe, as well as a hand plough and the cord of the seed bag at the back. Below the arms the framed, vertical inscription starts. It mentions as the owner general Horemakhbit ("Horus in the thicket of the swamps"), son of Hathor-em-akhet ("Hathor at the horizon"). With a transcription of the hieroglyphs and an old inventory card of 15 May 1985 mentioning as the discovery site the necropolis of Abusir el-Meleq.


Provenance: Belgian private collection J. H. Carre, acquired on 15 May 1985. With the original description of the same date. Thence in the US collection Olivier Carre, Pennsylvania.

Dimensions: 13.2 cm high

Ägypten – 30. Dynastie, 4. Jahrhundert v. Chr.
Schön erhaltenes Fayence-Uschebti aus helltürkis glasierter Fayence. Die mumienförmige Gestalt mit gesträhnter, dreigeteilter Perücke und geflochtenem Kinnbart. Die Figur hält in ihren überkreuzten gehaltenen Händen Hacke sowie Handpflug und Kordel für das Saatgut-Säckchen auf dem Rücken. Unterhalb der Arme setzt die gerahmte, vertikale Inschrift an. Sie nennt als Besitzer den General Horemachbit ("Horus im Dickicht der Sümpfe"), Sohn der Hathor-em-akhet ("Hathor am Horizont"). Mit Transkription der Hieroglyphen und alter Inventurkarte vom 15. Mai 1985, auf der als Fundort die Nekorpole von Abu Sir al-Malaq angegeben wird.

Provenienz: Belgische Privatsammlung J. H. Carre, erworben am 15. Mai 1985. Mit Originalbeschreibung vom gleichen Datum. Danach in der amerikanischen Sammlung Olivier Carre, Pennsylvania.
Höhe: 13,2 cm
Preis: 6.000 Euro


Egypt – 10th-11th century A.D.
Interesting fragment of a marble relief depicting the upper part of a rosette with portraits of people, possibly saints, worked into the leaves. The first head depicts a bearded man to the right, followed by another bearded man en face with a hair bun. In the centre possibly a head of a woman followed by a bearded man to the left, as well as a woman with long hair, also to the left. The rosette is surrounded on the outside by an engraved border that forms a loop on the right. See for the form the rosette in the Metropolitan Museum of Art with the Accession Number 47.100.47. Above the rosette on the right a semi-circular finale gable, where Christian symbols and graffiti are engraved. Recognizable are a fish and birds. The graffiti are probably from a later period, possibly added by pilgrims. The relief is of Coptic origin, the marble, which is rare in Egypt, might either have been imported or originated from Abu Gorab. See: Josef Strzygowski "Koptische Kunst", Vienna 1904, p. 8.


Provenance: From the collection of Joseph T. Butler, Tarrytown, New York, acquired in the 1970s. Auctioned with Ancient Resources Auctions in California on 19 July 2015, lot 93.

Dimensions: 23.2 cm x 27.2 cm

Ägypten – 10.-11. Jahrhundert Chr.
Interessantes Fragment eines Marmor-Reliefs, das den rechten oberen Teil einer Rosette zeigt, in deren Blätter die Porträts von Menschen, wohl Heiligen, eingearbeitet wurden. Der erste Kopf zeigt einen bärtigen Mann nach rechts, ihm folgt ein ebenfalls bärtiger Mann en face mit Haarknoten. In der Mitte wohl der Kopf einer Frau gefolgt von einem bärtigen Mann nach links sowie einer Frau mit langem Haar ebenfalls nach links. Die Rosette ist außen von einem gravierten Rand umgeben, der rechts eine Schlaufe bildet. Vergleiche zur Form die Rosette im Metropolitan Museum of Art mit der Accession Number 47.100.47. Über der Rosette ein rechts halbrund abschließender Giebel, in den christliche Symbole und Graffitos eingeritzt wurden. Zu erkennen sind ein Fisch und Vögel. Die Graffitos sind wohl in etwas späterer Zeit vielleicht von Pilgern hinzugefügt worden. Das Relief ist koptischer Herkunft, der in Ägypten seltene Marmor dürfte entweder importiert worden sein oder aus Abu Gerāja stammen. Vergleiche dazu: Josef Strzygowski "Koptische Kunst", Wien 1904, S. 8. Gesockelt.


Provenienz: Aus der Sammlung Joseph T. Butler, Tarrytown, New York, erworben in den 1970er Jahren. Versteigert bei Ancient Resources Auctions in Kalifornien am 19. Juli 2015, Los 93.
Dimensionen: 23,2 cm x 27,2 cm
Preis: 4.000 Euro


Middle Europe – 100,000-20,000 B.C.
Spectacular, completely preserved paw of a mature cave bear (ursus spelaeus) dating to the Ice Age. The fossil bones and limbs are professionally interconnected and assembled in a stretched-out position. No missing parts. From Western to Central Europe. Mounted.


Provenance: English private collection, last in the Scottish art market.
Dimensions: 34.4 cm long
Price: 3 200 Euro


Mitteleuropa – 100000-20000 v. Chr.
Spektakuläre, komplett erhaltene Tatze eines ausgewachsenen Höhlenbären (Ursus spelaeus) aus der Eiszeit. Die fossilen Knochen und Glieder sind professionell miteinander verbunden und in ausgestrecktem Zustand zusammengesetzt. Keine Fehlstelle. Aus West- bis Mitteleuropa. Gesockelt.


Provenienz: Englische Privatsammlung, zuletzt im schottischen Kunsthandel.
Länge: 34,4 cm
Preis: 3.200 Euro


Mesopotamia – Achaemenid period, Reign of Artaxerxes I, 465-424 B.C.
Interesting cuneiform tablet with an administrative content inscribed on both sides. It deals with the sale of barley, on the reverse the names of the witnesses, the location and the date are mentioned with quickly written characters. Very interesting is the Aramaic register on the left side of the tablet. It translates the name of the debtor for the registrars, so they can faster assign the tablet. The Babylonian mentioned name starts with "Bel(?), son of…". The subsequent name of the father is not decipherable. With an old description of the famous Assyriologist and expert for ancient Near East Wilfred George Lambert (1926-2011).


Provenance: From an old English collection, late 1980s. The collection was examined by Prof. Wilfred George Lambert. With an old description.
Dimensions: 5.5 cm x 6.6 cm
Price: 2 200 Euro


Mesopotamien – Achämenidische Periode, Herrschaft des Artaxerxes I., 465-424 v. Chr.
Interessante, auf beiden Seiten beschriebene Keilschrift-Tafel mit administrativem Inhalt. Es handelt sich um den Verkauf von Gerste, auf der Rückseite werden in sehr schnell gesetzten Zeichen die Namen der Zeugen, des Ortes und das Datum genannt. Besonders interessant ist aber das aramäische Register auf der linken Seite der Tafel. Sie übersetzt den Namen des Schuldners für die Archivare, damit diese die Tafel schneller zuordnen können. Der genannte, babylonische Name beginnt mit "Bel(?), Sohn des …". Der darauffolgende Name des Vaters ist nicht zu entziffern. Mit einer alten Beschreibung des bekannten Assyriologen und Altorientalisten Wilfred George Lambert (1926-2011).


Provenienz: Aus alter englischer Sammlung Ende der 1980er Jahre. Die Sammlung wurde von Prof. Wilfred George Lambert beguachtet. Mit alter Beschreibung.
Dimensionen: 5,5 cm x 6,6 cm
Preis: 2.200 Euro


Large, particularly broad diadem of hammered gold sheet with very abundant decoration. Two bearded, winged figures, possibly male sirens, facing each other amidst floral motives, rosettes and volutes. See for the floral decoration the gold diadem in the Medelhavsmuseet in Stockholm, Sweden, with the inventory number BEK 1963.30. As well as the diadem in the Metropolitan Museum of Art with the Accession Number 06.1217.1.


Provenance: From a New York collection, acquired in the 1990s.
Dimensions: 18.1 cm long
Price: 3 600 Euro


Griechenland –

500-400 v. Chr.
Großes, besonders breites Diadem aus gehämmertem Goldblech mit überaus reicher Verzierung. Inmitten von floralen Motiven, Rosetten und Voluten blicken sich zwei bärtige geflügelte Wesen, wohl männliche Sirenen, an. Vergleiche zum floralen Dekor das Golddiadem im Medelhavsmuseet in Stockholm mit der Inventarnummer BEK 1963.30. Sowie das Diadem im Metropolitan Museum of Art mit der Accession Number 06.1217.1.


Provenienz: Aus New Yorker Sammlung, erworben in den 1990er Jahren.
Länge: 18,1 cm
Preis: 3.600 Euro


Umbria – 5th century B.C.
Highly stylized anthropomorphic bronze statuette from southern Umbria. The plank figure with an elongated, rectangular body, which only has a minimal bulge at hip height. Legs and feet are not accentuated. The short upper body slightly narrowing towards the top. On the sides the arms, which are decorated with grooves, hang semi-circularly down. The elongated head sits directly on the shoulders. The bearded chin is long and tapering. The mouth is horizontally notched, the nose is long and prominent. The eyes sit in relatively deep indentations. An almost contemporarily appearing bronze statuette. See for the type the bronze votive figure in the Museum of Fine Arts Budapest with the inventory number 51.842. Statuettes such as the present one are considered to be the antecedents of the Etruscan votive figures from Volterra, which evolved around 100 years later. The famous example of these elongated bronze statuettes, the 57.3 cm high "Ombra della Sera" (Shadow of the evening), is today in the Museo Etrusco Guarnacci in Volterra, Italy. For many it is considered as the model and inspiration for contemporary artist Alberto Giacometti (1901-1966). Mounted, the base with the collection number 36.


Provenance: French private collection Dr. J. C., acquired on 1 July 1966 in the gallery "Archéologie" in Paris. With a copy of the original invoice.
Dimensions: 9.9 cm high
Price: 3 200 Euro


Umbrien – 5. Jahrhundert v. Chr.
Stark stilisierte antropomorphe Bronze-Statuette aus dem südlichen Umbrien. Die stabförmige Figur mit langgezogenem, rechteckigem Körper, der nur in Hüfthöhe eine minimale Ausbuchtung aufweist. Beine und Füße sind nicht akzentuiert. Der kurze Oberkörper verschmälert sich leicht nach oben. Seitlich stehen die mit Kerben verzierten Arme halbrund nach unten ab. Der langgezogene Kopf sitzt direkt auf den Schultern auf. Das wohl bärtige Kinn ist lang und läuft spitz aus. Der Mund ist horizontal eingekerbt, die Nase lang und prägnant. Die Augen sitzen in vergleichsweise tiefen Einbuchtungen. Eine fast zeitgenössisch anmutende Bronze-Statuette. Vergleiche zum Typus die Bronze-Votivfigur im Museum of Fine Arts Budapest mit der Inventarnummer 51.842. Statuetten wie diese gelten als Vorläufer für die etruskischen Votivfiguren aus Volterra, die rund 100 Jahre später entstanden. Das berühmteste Beispiel dieser langgezogenen Bronze-Statuetten, der 57,3 cm hohe "Ombra della Sera" (Abendschatten), befindet sich heute im Museo Etrusco Guarnacci in Volterra, Italien. Er gilt vielen als Vorlage und Inspiration des zeitgenössischen Künstlers Alberto Giacometti (1901–1966). Gesockelt, der Sockel mit der Sammlungsnummer 36.


Provenienz: Französische Privatsammlung Dr. J. C., erworben am 1. Juli 1966 in der Galerie "Archéologie" in Paris. Mit Kopie der Original-Rechnung.
Höhe: 9,9 cm
Preis: 3.200 Euro


Greece/Apulia – 340-325 B.C.
Elegant, red-figure oinochoe with a head of a woman to the left and fine details in opaque white. The so-called "Lady of Fashion" wears earrings and a necklace, parts of the pulled back hair is covered with a kekryphalos. Wavy curls cascade on the sides along her temple. The nose is long and merges directly into her forehead, which makes the attribution to the workshop of the Kantharos Group possible. In front of the face a floral plant, behind it a rosette. The rest of the corpus is decorated with densely painted palmettes. The oinochoe stands on a multiple-profiled foot ring. The shoulder is horizontal and decorated with a black waveband. The long neck with white ray decoration. On the back of the trefoil spout the high raised, ribbed handle starts, which ends on the shoulder.


Provenance: Private collection Michael Ratzenböck, Upper Austria. For at least 30 years in a family estate.
Dimensions: 24.3 cm high
Price: 1 400 Euro


Griechenland/Apulien – 340-325 v. Chr.
Elegante rotfigurige Oinochoe mit einem Frauenkopf nach links und feinen Details in Deckweiß. Die so genannten "Lady of Fashion" trägt Ohrringe und eine Halskette, Teile des nachhinten gebundenen Haars werden vom Kekryphalos bedeckt. Seitlich gewellte Haarlocken fallen ihr über die Schläfe. Die Nase ist lang und geht direkt in die Stirn über, was eine Zuordnung an die Werkstatt der Kantharos-Gruppe wahrscheinlich macht. Vor dem Gesicht ein florales Gewächs, dahinter eine Rosette. Den Rest des Korpus schmücken dicht aufgemalte Palmetten. Die Oinochoe steht auf einem mehrfach profilierten Standfuß. Die Schulter ist horizontal und mit einem schwarzen Wellenband verziert. Der lange Hals mit weißem Strahlendekor. Am hinteren Teil des Kleeblattausgusses setzt der hochgezogene, gerippte Henkel an, der an der Schulter endet.


Provenienz: Privatsammlung Michael Ratzenböck, Oberösterreich. Seit zumindest 30 Jahren in Familienbesitz.
Höhe: 24,2 cm
Preis: 1.400 Euro


Roman Empire – 1st century A.D.
Small, aubergine coloured unguentarium with an applied, white spiral thread, which runs from bottom right to upper left. The small flask with a flattened base, bulbous corpus and a long, cylindrical neck. The spout opens to funnel, the rim is thickened. From the Syrian-Palestine region. See for the form with also white spiral threads "Römisches, byzantinisches und frühmittelalterliches Glas – Sammlung Ernesto Wolf", Hatje Cantz 2001, numbers 1 und 2.


Provenance: From a French private collection, acquired in the 1980s.
Dimensions: 6.5 cm high
Price: 600 Euro


Römisches Reich – 1. Jahrhundert n. Chr.
Kleines, auberginefarbenes Unguentarium mit aufgelegtem, weißem Spiralfaden, der von rechts unten nach links oben verläuft. Das Fläschchen mit abgeflachtem Boden, kugeligem Korpus und einem langen, zylindrischen Hals. Der Ausguss öffnet sich trichterförmig, der Rand ist heiß verdickt. Aus dem syrisch-palästinischen Raum. Vergleiche zur Form mit ebenfalls weißen Spiralfäden "Römisches, byzantinisches und frühmittelalterliches Glas – Sammlung Ernesto Wolf", Hatje Cantz 2001, Nummer 1 und 2.


Provenienz: Aus französischer Privatsammlung, erworben in den 1980er Jahren.
Höhe: 6,5 cm
Preis: 600 Euro


Phoenicia – 5th-4th century B.C.
Phoenician head amulet with a chubby face of opaque red glass. The nose is bulbous, the mouth small and closed. The eyes are of blue glass circularly applied. The back of the head also of blue glass paste. Amulets such as the present one were worn around the neck and possibly had an apotropaic function. See for the type Christie's auction London on 26 April 2012, lot 55.


Provenance: US private collection, acquired from Herakles Numismatik on 4 December 1995. With a copy of the invoice.
Dimensions: 1.8 cm high
Price: 800 Euro


Phönizien – 5.-4. Jahrhundert v. Chr.
Phönizisches Kopf-Amulett mit pausbäckigem Gesicht aus opakem rotem Glas. Die Nase knollig, der Mund klein und geschlossen. Die Augen sind aus blauem Glas kreisförmig aufgelegt. Der Hinterkopf ebenfalls aus blauer Glaspaste. Amulette wie dieses wurden um den Hals getragen und hatten wohl apotropäische Funktion. Vergleiche zum Typus Christie's Auktion London vom 26. April 2012, Los 55.


Provenienz: Amerikanische Privatsammlung, erworben bei Herakles Numismatik am 4. Dezember 1995. Mit Kopie der Rechnung.
Höhe: 1,8 cm
Preis: 800 Euro


CHRISTOPH BACHER ARCHÄOLOGIE ANCIENT ART GmbH
Galerie: Stubenring 20, A-1010 Wien
Showroom: Untere Viaduktgasse 55, A-1030 Wien