Für die deutsche Fassung bitte nach unten scrollen
New Exhibtion:

"Animals in Ancient Art"

Opening Thursday, 24 March at 6pm
Enjoy with us an evening with wine and marvel at animal depictions full of power, archaism, but also divine gentleness.


Our Highlight:
South Arabia – 2nd half of 1st millennium B.C.
Important freestanding solid bronze statue of an ibex with the head facing to the left and wide apart towering horns. The anatomic details worked out with extraordinary diligence and in high quality. The head with large, outwards bulging eyes, deeply worked out forehead wrinkles and a slender mouth. The ears protruding. The horns are massive and finely ribbed throughout the entire length. The belly on both sides with vertical lines. The legs are finely accentuated with worked out hooves. The tail is short. Published in: "Wonders of the Sabaean World", number 23, London 2016. See for the type the renowned large bronze statuette of an ibex from the Al Thani collection, exhibited in the Tokyo National Museum.
Provenance: From a German private collection, acquired in 1989. Thence with The Merrin Gallery, New York, 1990s. Later on the English art market, there published in 2016. Last in a New York private collection. Published in: "Wonders of the Sabaean World", number 23, London 2016.
Dimensions: 15 cm x 14.2 cm
Price: 32 000 Euro


Selected Artworks:
Roman Empire – 1st half of 1st century A.D.
A Campana relief with beautiful color remains depicting a male recumbent sphinx. His bearded head with red hair, which is pulled back to a bun. In front of the sphinx stands an unclothed archer en face. He wears a red colored crown and also has a red colored full beard. He holds in his left stretched out hand an artistically curved bow. On the right image area plants like those which could grow in the Nile. This Campana relief belongs to the so-called "Sima", which served as decoration in the lower part of the roof. Typical for Sima, like for the present relief, is the upper border with Ionian Cymation (egg-and-dart pattern) and a smooth strip at the bottom. See for the depiction of the male sphinx, the plants and the archer the Campana relief in the Kunsthistorisches Museum in Vienna with the inventory number V34. Mounted.


Provenance: From the collection William G. Butler acquired in 1978 from Harmer Rooke Numismatics Ltd. in New York. With the original certificate from 1978.
Dimensions: 21.8 cm x 27.5 cm
Price: 8 000 Euro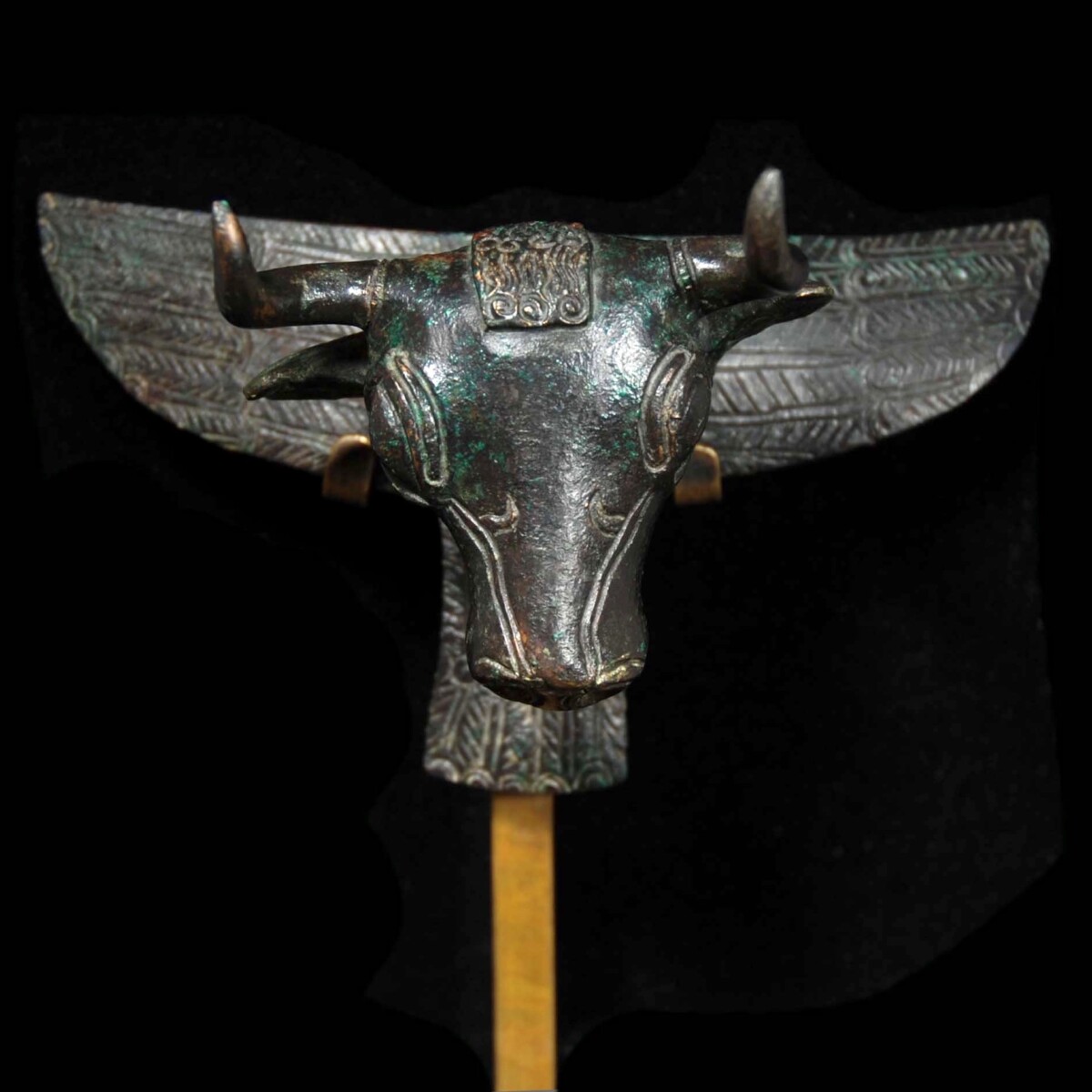 Urartian Empire – 8th-7th century B.C.
Magnificently worked out, massive bronze bull head with sideways protruding wings and feathered neck. The applique once decorated together with three similar bull heads a Urartian bronze cauldron, of which only four examples are completely preserved today. The bull with a strong neck and massive, turned up horns. His spoon-shaped ears are protruding horizontally and connected with a wavy filet along the neck. Large, bulging eyes between heavy lids. On the forehead a rectangular filet with ringlets on the sides. The slender face tapers to a strong, slightly open mouth with round nostrils. The wings and the chest are decorated with several rows of feathers in cold work. Possibly from Toprakkale in today's southeastern Turkey. See for the type the completely preserved bronze cauldron in the Museum of Anatolian Civilizations in Ankara and in the Van Museum in Turkey. For a sole bull head see the example in the British Museum with the Reference Number 1880,1216.60. Mounted.


Provenance: From an old European private collection, auctioned with Gorny&Mosch in the early 2000s. Thence in the collection Dimarco in Geneva, Switzerland.
Dimensions: 8 cm x 13.1 cm
Price: 16 000 Euro


Greece – 3rd century B.C.
Finely crafted gold earrings that end in lion heads hammered out of gold sheet. The bow made of finely twisted gold wire. The tapering end again made of smoothly hammered gold. In principle, the earrings can be worn in their original condition, but for conservation reasons it would be advisable to use a modern pin.


Provenance: French private collection L., acquired in July 1982. Thence in a family estate. With an old collection photo from July 1982.
Dimensions: 2.2 cm in diameter; 2.8 grams
Price: 1 800 Euro


Indus Valley – 2500-1900 B.C.
Massive marble statuette of a stylized mouflon of the early Bronze Age Indus- or Harappa culture. The wild sheep is depicted standing with a massive, almost rectangular body. The legs are short and tapering towards the end. The monumental, fluted horns originate at the forehead, running in a wide curve towards the bottom and again under the head. They each frame the elongated ears. The face with deeply pierced eyes, which once had inlays made of gemstones. The mouth is broadly pulled back with the tongue sticking out. Published in: Ancient Treasures XIII, Antiquarium Ltd, page 7. See for reference for the type of mouflon in the Metropolitan Museum New York with the Accession Number 1978.58, as well as Christie's New York on 4 June 2008, lot 68.


Provenance: American private collection 1960s. Thence auctioned with Christie's New York on 11 December 2003, lot 107. Last in the English art market.
Dimensions: 22 cm long
Price: 16 000 Euro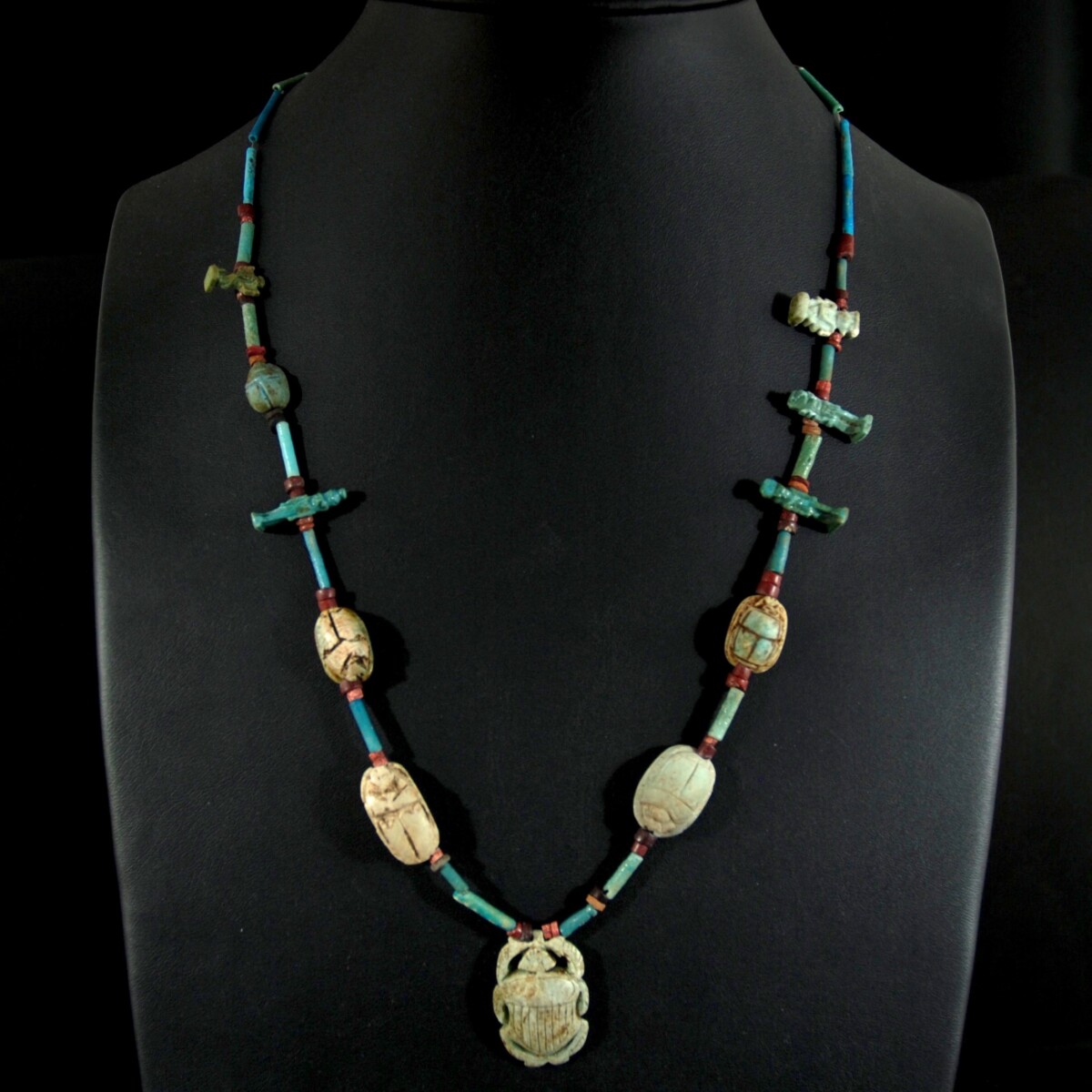 Egypt – Late period, 664-332 B.C.
Ready to wear, very elegant necklace with six scarabs and five small faience amulets. The amulets depict the gods Bes, Thoth and Horus. The central scarab with naturalistic features of light blue faience with ribbed backplate. At the bottom a djed pillar is engraved. Between the amulets and scarabs ancient faience tubes.


Provenance: French private collection C.R. Acquired from the collection of a Parisian archaeologist on 15 April 1999.
Dimensions: 66 cm long
Price: 4 000 Euro


Egypt – Ptolemaic period, 332-30 B.C.
Large, relief-like limestone head of a falcon-headed deity with human ears. The face with a wide protruding, prominent crooked beak, bulging forehead and round, bulging eyes between thin lids. The ears protruding from the wig. The back is flat. This object could be the depiction of Horus son Qebehsenuef, who was attributed as the canopy god for the protection of the intestines. But an attribution to Horus himself can also be considered. On an old wood base.


Provenance: Christie's auction London on 31 October 1978, lot 290. There acquired by the German collector U. H.
Dimensions: 12.1 cm high
Price: 4 800 Euro


Mesopotamia – Mid-2nd millennium B.C.
Almost metallically appearing weight of dark grey hematite in form of a crouching duck, putting its head over its shoulder to the back. The neck is long and slender, the beak with a raised ridge. The tail feathers are accentuated by a gentle widening at the end of the body. The base of the small sculpture is flat. The so-called "sleeping duck" is a common weight form in the Near East. The earliest examples originate from the Sumerian excavation sites of the 3rd millennium B.C.


Provenance: English private collection, 1980s. Thence 2016 with Rupert Wace Ancient Art in London. With a copy of the original invoice.
Dimensions: 2.1 cm long; 7.8 grams
Price: 700 Euro


Egypt/Alexandria – Roman period, 1st century A.D.
Terracotta statuette of a riding child (Harpocrates?) from Alexandria. The horse striding to the right with raised, left foreleg. The head of the animal slightly tilted to the right, the long tail along the body. On the back sits a child, both legs hanging along the right flank. One arm rests on the head of the animal, the other one on the back. The statuette stands on a high plinth. On the back a venting hole and the stamp of the manufacturer with the letters Δ (Delta) and Ξ (Xi).


Provenance: Private collection Dr. B. C., inventory number 74, acquired from the gallery Los Andes in Madrid, Spain, on 21 November 1972. With a handwritten copy of the inventory list of the collection.
Dimensions: 11.2 cm high
Price: 1 400 Euro


Greece/Creta – 1400-1200 B.C.
Rare, chest-shaped terracotta coffin with four legs. These funeral coffins called Larnax imitating the wood predecessor and became famous for their exceptional painting. The long sides of the present larnax are each painted with an octopus whose long tentacles are spread wavelike over the entire area. The eyes are large and round and stare at the viewer. Maritime creatures are popular in the Minoan painting, but the octopus is by far the most important motive. See: L. Vance Watrous, "The Origin and Iconography of the late Minoan painted Larnax", in the Aegean Bronze Age Symposium at the Institute of Fine Arts, New York, October 1983. Six massive support rings – two on each of the long sides, as well as one on each of the short sides – served for transportation. The corpse was buried in the relatively small coffin bent forward. Three cross struts at the floor supported the stability. Small holes in the bottom should apparently expedite the decomposition of the body. An exceptional, highly museum-quality object.


Provenance: German collection U. G., Bad Birnbach, acquired prior to 1975. Thence in the Swiss collection of Dr. R. Last with Harlan J. Berk, Ltd, Chicago. Published in: Harlan J. Berk Buy and Bid Sale of 10. May 2011, lot 266. As well as Harlan J. Berk 194th Buy and Bid Sale of 9. July 2015, lot 302.
Dimensions: 67 cm x 107 cm x 48 cm
Price: 80 000 Euro


Eröffnung am 24. März um 18.00 Uhr:

"Tierbilder aus Vier Jahrtausenden"



Genießen Sie mit uns einen weinseligen Abend und staunen Sie über Tierdarstellungen voller Kraft, Archaik, aber auch göttlicher Sanftheit.


Unser Highlight:

Südarabien – 2. Hälfte 1. Jahrtausend v. Chr.
Bedeutende, freistehende Vollbronze-Statue eines Steinbocks mit nach links gewandtem Kopf und weit auseinander ragenden Hörnern. Die anatomischen Details mit außerordentlicher Sorgfalt und Qualität gearbeitet. Der Kopf mit großen, nach außen quellenden Augen, tief gearbeiteten Stirnfalten und einem schlanken Maul. Die Ohren abstehend. Die Hörner mächtig und weit abstehend sind über die gesamte Länge fein geriffelt. Am Bauch beidseitig vertikale Falten. Die Beine fein akzentuiert mit ausgearbeiteten Hufen. Der Schwanz kurz. Publiziert in: "Wonders of the Sabaean World", Nummer 23, London 2016. Vergleiche zum Typus die berühmte große Bronze-Statuette eines Steinbocks aus der Sammlung Al Thani, ausgestellt im Tokyo National Museum.


Provenienz: Aus deutscher Privatsammlung, erworben 1989. Danach bei The Merrin Gallery, New York, 1990er Jahre. Später englischer Kunsthandel, dort 2016 publiziert. Zuletzt in einer New Yorker Privatsammlung. Publiziert in: "Wonders of the Sabaean World", Nummer 23, London 2016.
Dimensionen: 15 cm x 14,2 cm
Price: 32.000 Euro


Ausgewählte Kunstwerke:

Römisches Reich – 1. Hälfte 1. Jahrhundert n. Chr.
Mit wunderbaren Farbresten erhaltenes Campanarelief, das einen hockenden männlichen Sphinx zeigt. Sein bärtiges Haupt mit rotem Haar, das hinten zu einem Knoten gebunden ist. Vor dem Sphinx steht ein unbekleideter Bogenschütze en face. Er trägt eine rot gefärbte Krone und einen ebenfalls rot gefärbten Vollbart. In seiner zur Seite gestreckten linken Hand hält er einen kunstvoll geschwungenen Bogen. In der rechten Bildhälfte Pflanzen wie sie im Nil blühen können. Dieses Campanarelief zählt wohl zu den sogenannten Simen, die als Dekoration im unteren Dachabschluss Verwendung fanden. Typisch für Simen sind wie bei diesem Relief die obere Begrenzung mit ionischem Kymation (Eierstabmuster) und eine glatte Leiste an der Unterseite. Vergleiche zur Darstellung des männlichen Sphinxs, der Pflanzen und des Bogenschützens das Campanarelief im Kunsthistorischen Museum in Wien mit der Inventarnummer Antikensammlung V34. Gesockelt.


Provenienz: Aus der Sammlung William G. Butler, erworben 1978 von Harmer Rooke Numismatics Ltd. in New York. Mit Original-Zertifikat von 1978.
Dimensionen: 21,8 cm x 27,5 cm
Preis: 8.000 Euro


Urartäisches Reich – 8.-7. Jahrhundert v. Chr.
Prachtvoll gearbeiteter, massiver Bronzekopf eines Bullen mit seitlich abstehenden Flügeln und einem gefiederten Hals. Die Applike schmückte einst gemeinsam mit drei gleichartigen Bullenköpfen einen urartäischen Bronzekessel, von dem sich nur vier bekannte Exemplare komplett erhalten haben. Der Stier mit kräftigem Hals und mächtigen, nach oben gedrehten Hörnern. Seine löffelartigen Ohren stehen horizontal ab und sind durch ein gelocktes Haarband entlang des Halses miteinander verbunden. Die großen, herausquellenden Augen zwischen schweren Lidern. Auf der Stirn ein rechteckiges Haarband mit Ringellöckchen am Rand. Das schlanke Gesicht läuft vorne in ein kräftiges, leicht geöffnetes Maul mit runden Nüstern aus. Die Flügel und der Brustansatz sind mit mehreren Federreihen in Kaltarbeit verziert. Wohl aus Toprakkale im Südosten der heutigen Türkei. Vergleiche zum Typus die vollständig erhaltenen Bronzekessel im Museum of Anatolian Civilizations in Ankara und im Van Museum in der Türkei. Zu einem einzelnen Bullenkopf vergleiche das Exemplar im British Museum mit der Reference Number 1880,1216.60. Gesockelt.


Provenienz: Aus alter europäischer Privatsammlung, versteigert bei Gorny Mosch Anfang der 2000er Jahre. Danach in der Sammlung Dimarco in Genf, Schweiz.
Dimensionen: 8 cmx 13,1 cm
Preis: 16.000 Euro


Griechenland – 3. Jahrhundert v. Chr.
Fein gearbeitete Goldohrringe, die in aus Goldblech gehämmerten Löwenköpfen auslaufen. Der Bügel aus fein tordiertem Golddraht. Das spitz zulaufende Ende wiederum aus glatt gehämmertem Gold. Die Ohrringe sind prinzipiell in ihrem Originalzustand tragbar, dennoch würde es sich aus konservatorischen Gründen empfehlen, einen modernen Stift anzusetzen.
Provenienz: Französische Privatsammlung L., erworben im Juli 1982. Seitdem in Familienbesitz. Mit altem Sammlungsfoto von Juli 1982.
Dimensionen: Durchmesser ca. 2,2 cm; Gewicht 2,8 Gramm
Preis: 1.800 Euro


Industal – 2500-1900 v. Chr.
Schwere Marmor-Statuette eines stilisierten Mufflons der frühbronzezeitlichen Indus- oder Harappa-Kultur. Das Wildschaf ist stehend mit einem massiven, annähernd rechteckigen Körper dargestellt. Die Beine sind kurz und nach unten schmäler werdend. Die monumentalen, geriffelten Hörner gehen von der Stirn ab und verlaufen in einem großen Bogen nach unten und wieder unter den Kopf. Sie rahmen jeweils die langgezogenen Ohren ein. Das Gesicht mit tief gebohrten Augen, die einst Einlagen aus Schmucksteinen fassten. Der Mund breit nach hinten gezogenen mit herausgestreckter Zunge. Publiziert in: Ancient Treasures XIII, Antiquarium Ltd, Seite 7. Vergleiche zum Typus das Mufflon im Metropolitan Museum New York mit der Accession Number 1978.58 sowie Christie's New York vom 4. Juni 2008, Los 68.
Provenienz: Amerikanische Privatsammlung 1960er Jahre. Danach versteigert bei Christie's New York am 11. Dezember 2003, Los 107. Zuletzt im englischen Kunsthandel.
Länge: 22 cm
Preis: 16.000 Euro


Ägypten – Spätzeit, 664-332 v. Chr.
Sofort tragbare, sehr elegante Halskette mit sechs Skarabäen und fünf kleinen Fayence-Amuletten. Bei den Amuletten Darstellung der Götter Bes, Thoth und Horus. Der zentrale Skarabäus mit naturalistischen Zügen aus hellblauer Fayence mit gerilltem Rückenpanzer. An der Unterseite ist ein Djed-Pfeiler eingraviert. Zwischen den Amuletten und Skarabäen antike Fayence-Röhrchen.
Provenienz: Französische Privatsammlung C. R., erworben aus der Sammlung eines Pariser Archäologen am 15. April 1999.
Länge: 66 cm
Preis: 4.000 Euro


Ägypten – Ptolemäische Zeit, 332-30 v. Chr.
Großer, reliefartiger Kalksteinkopf einer falkenköpfigen Gottheit mit menschlichen Ohren. Das Gesicht mit weit hervorstehendem, markantem Krummschnabel, wulstiger Stirn und runden, hervorquellenden Augen zwischen dünnen Lidern. Die Ohren stehen unter der Perücke hervor. Die Rückseite flach. Es könnte sich bei der Darstellung um den Horussohn Kebechsenuef handeln, der als Kanopengott für den Schutz der Gedärme zuständig war. Aber auch eine Zuweisung an Horus selbst ist nicht ausgeschlossen. Auf altem Holzsockel.


Provenienz: Christie's Auktion London vom 31. Oktober 1978, Los 290. Dort erworben vom deutschen Sammler U. H.
Höhe: 12,1 cm
Preis: 4.800 Euro


Mesopotamien – Mitte 2. Jahrtausend v. Chr.
Geradezu metallisch anmutendes Gewicht aus dunkelgrauem Hämatit in Form einer kauernden Ente, die ihren Kopf nach hinten über die Schulter legt. Der Hals lang und schlank, der Schnabel mit erhobenem Mittelgrad. Schwanzfedern sind durch die deutliche Verbreiterung am Ende des Körpers akzentuiert. Die Basis der kleinen Skulptur ist flach. Die sogenannte "schlafende Ente" ist eine der gebräuchlichsten Gewichtsformen des Nahen Ostens. Die frühesten Beispiele stammen von sumerischen Fundstätten des 3. Jahrtausends v. Chr.
Provenienz: Englische Privatsammlung 1980er Jahre. Danach 2016 bei Rupert Wace Ancient Art in London. Mit Kopie der Originalrechnung.
Länge: 2,1 cm; Gewicht: 7,8 Gramm
Preis: 700 Euro


Ägypten/Alexandria – Römische Zeit, 1. Jahrhundert n. Chr.
Terrakotta-Statuette eines reitenden Kindes (Harpokrates?) aus Alexandria. Das Pferd nach rechts schreitend mit angehobenem, linkem Vorderlauf. Der Kopf des Tieres leicht nach rechts gewandt, der lange Schweif an den Körper anliegend. Am Rücken sitzt ein Kind, beide Beinen die rechte Flanke des Pferdes herabhängend. Ein Arm liegt am Kopf des Tieres auf, der andere am Rücken. Die Statuette steht auf einer hohen Plinthe. Auf der Rückseite ein Brennloch und die Marke des Herstellers mit den Buchstaben Δ (Delta) und Ξ (Xi).
Provenienz: Privatsammlung Dr. B. C., Inventarnummer 74, erworben in der Galerie Los Andes in Madrid am 21. November 1972. Mit handschriftlicher Kopie aus dem Inventarverzeichnis der Sammlung.
Höhe: 11,2 cm
Preis: 1.400 Euro


Griechenland/Kreta – 1400-1200 v. Chr.
Seltener, kastenförmiger Terrakotta-Sarkophag mit vier Beinen. Diese Larnax genannten Truhen zur Bestattung imitieren hölzerne Vorgänger und sind aufgrund ihrer außergewöhnlichen Bemalung berühmt geworden. Die Langseiten unserer Larnax sind jeweils mit einem Oktopus bemalt, dessen langen Tentakel sich wellenförmig über die gesamte Fläche verteilen. Die Augen sind groß und rund und starren den Betrachter gleichsam an. Maritime Geschöpfe sind in der minoischen Malerei weit verbreitet, der Oktopus jedoch ist dabei das mit Abstand bedeutendste Motiv. Vergleiche dazu: L. Vance Watrous, "The Origin and Iconography of the late Minoan painted Larnax" in the Aegean Bronze Age Symposium at the Institute of Fine Arts, New York, October 1983. Sechs massive Tragringe – jeweils zwei an den Langseiten sowie je eine an den Kurzseiten – dienten zum Transport. Der Leichnam wurde in dem vergleichsweise kleinen Sarg nach vorne gebeugt bestattet. Drei Querverstrebungen am Boden verstärkten die Stabilität. Lochungen im Inneren sollten wohl den Zerfall der Körper beschleunigen. Ein außergewöhnliches, hoch museales Objekt.
Provenienz: Deutsche Sammlung U. G., Bad Birnbach, erworben vor 1975. Danach in der Schweizer Sammlung von Dr. R. Zuletzt bei Harlan J. Berk, Ltd, Chicago. Publiziert in: Harlan J. Berk Buy and Bid Sale vom 10. Mai 2011, Los 266. Sowie Harlan J. Berk 194th Buy and Bid Sale vom 9. Juli 2015, Los 302.
Dimensionen: 67 cm x 107 cm x 48 cm
Preis: 80.000 Euro


CHRISTOPH BACHER ARCHÄOLOGIE ANCIENT ART GmbH
Galerie: Stubenring 20, A-1010 Wien
Showroom: Untere Viaduktgasse 55, A-1030 Wien